A successful partnership is in bloom as Turf Masters has become the newest Promotional Partner of Geronimo, Vacation Rentals for Charity. Recently joining on as a Promotional Partner, Turf Masters has wasted no time in getting to the business of promoting Geronimo to their Atlanta and Nashville area clients, by adding "We Support Geronimo" logo decals on all their service trucks and sales vehicles.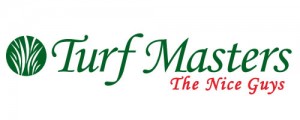 Further adding to their promotional efforts, Turf Masters is now including a Geronimo flyer (see below) with all their invoices left on the doorknob of Turf Master's current clientele. But the most exciting aspect of this promotional partnership is the incentive Turf Masters is offering: Post your vacation home for rental OR go on a vacation booked through Geronimo.com and receive 3 free lawn care treatments, valued up to $200.
Turf Masters Lawn Care, Inc., Atlanta's premier lawn treatment company, specializes in fertilization and weed control. Owner & founder, Andy Kadrich, states, "In the beginning, I operated the business from the basement in my home, our very first customer was a neighbor from across the street, now we provide lawn treatment services for over 8,000 properties in the Atlanta area. We grew this business based on the principle that if we take great care of our employees, they'll take great care of our customers."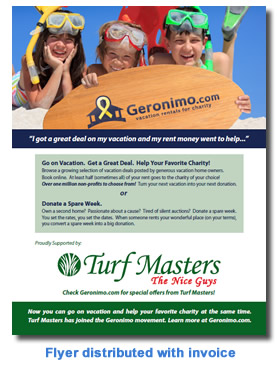 Turf Masters provides seven applications throughout the year and offers free service calls in between treatments. According to Andy, "I have more than three decades of experience in this industry. Keeping weeds out of the lawn is mainly a matter of timing and because I've been doing this for as long as I have, I make sure that we're always ahead of the curve."
And ahead of curve he is! Turf Masters is cutting a new path in promotional partnerships and Geronimo founder, Mike Last, couldn't be more excited about their involvement, "Turf Masters is the kind of company every company should strive to be and we're proud to have them on board."
Our promotional partners are making a world of difference by providing innovative ways to support Geronimo, Vacation Rentals for Charity. Should you be interested in becoming a promotional partner, please read about How to Become a Partner on our website.