We are excited to welcome our newest promotional partner Six Feet Under Pub & Fish House. They are offering anyone who has booked a vacation on Geronimo.com or a OneSpareWeek website a $50 Six Feet Under Gift card! Just bring a copy of your booking confirmation e-mail within one month following the completion of your vacation and you'll receive a $50 Six Feet Under gift card, valid for great Six Feet Under food and beverage.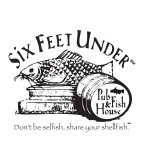 Six Feet Under Pub & Fish House has been an Atlanta favorite since opening their doors in 2002. From the beginning, their casual, laid-back atmosphere paired with killer seafood was a winning combination. Their menu offers simple, delicious Southern-inspired fare with an eclectic twist. After trying everything from fried shrimp to catfish tacos, seared Ahi tuna to fresh raw oysters, you'll understand why this place is always buzzing with activity. The rooftop patio bar is the icing on the crab cake, so to speak. There you can sip a cold brew or a hand-crafted cocktail while basking in the view of the Atlanta skyline. Visit both locations: one in the heart of West Midtown at 685 11th Street, and the original Grant Park site at 437 Memorial Drive SE. For more, please visit their website.
Our promotional partners are making a world of difference by providing innovative ways to support Geronimo, Vacation Rentals for Charity. Should you be interested in becoming a promotional partner, please read about How to Become a Partner on our website.