Are you organizing a fundraising auction for your PTO and feel a bit overwhelmed? You're not alone. So we've put together this post to help organize a great fundraiser and get parents involved.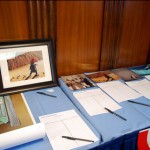 Although fundraising auctions require a great deal of time they can reap the greatest benefit for your PTO. The financial gain is enhanced by the team building that takes place among your PTO members while planning an event of this scale.
If you are starting the auction journey with a solid group of volunteers, that is half the battle. Organization may be the other half. Volunteers can be grouped together by their talents and interests. Your meticulous organizers can focus on an item tracking and bidding system while those parents with outgoing personalities can hit the road to collect as many quality donated items from area businesses as possible. Be sure to equip these volunteers with a donation request letter which includes your tax id number. It is always a good idea to have a few featured items which will draw interest from a broad audience. For smaller items that are donated, brainstorm with your team to see how you can package these to maximize your auction profit. Small value gift cards can be used for a fun event such as a balloon pop, where guests would pay, for example, $5 and be guaranteed a minimum $10 gift card after popping a balloon of their choice.
An auction is also a great opportunity to find new volunteers. There is so much to do, big and small, that new volunteers can start out at whatever level they are most comfortable.
A great way for the PTO President or Auction Chairperson to successfully manage the event is to create teams of volunteers with a leader for each team. This way, only the team leader will need to meet with the chairperson or attend event planning meetings. The team leader can be responsible for communicating information to all members of their assigned team.
If this is your first year auction, it might be a good idea to hold the auction in conjunction with another event such as a carnival or other family-friendly event. Once the auction becomes an established annual event, families will come out just for that and you can spare the added expense and effort of a parallel event.
Maintaining the family theme threaded throughout the event may include items such as a fun vacation rental. This is an item that can be "teased" online prior to the event and create a great deal of enthusiasm. One powerful online resource to assist with converting vacation rentals into donations is OneSpareWeek.com which is a service of Geronimo Vacation Rentals for Charity in Alpharetta, GA.   Your auction team can easily create a year-round fundraising website when they enter information about your organization, providing photos, logos, etc., then sit back and wait for the One Spare Week team to complete your website featuring $millions in vacation rentals which have been donated for charity use.  A website is generally completed within 48 hours or submitting your information.   You can also claim a vacation and display it at your silent auction event (easy PDF creator provided)!  One Spare Week does the work of gathering the donated vacation homes and your organization receives the benefits. One Spare Week private label sites now feature moe than $5,000,000 in vacations  available for non-profit organizations fundraising use.
Sports memorabilia is another great auction item. If you hope to land special items from a sports figure or team you'll need to plan well in advance and submit your request in writing. Given enough notice, most organizations are happy to help schools with their fundraising.
Engage the entire school with  "classroom baskets". If your auction has a theme, have each classroom create a basket that fits the theme in a different way. Families from each classroom will donate items for the basket and your PTO can have a sub-committee to put the baskets together in an appealing manner.
Most importantly, once your event is done, be sure to thank your donors and volunteers. Those who feel appreciated for their contribution will be more likely to participate next year. If you are hoping to build an annual event, you'll be glad you took the time to thank each one.
2 Responses to "How To Host A Successful PTO Fundraising Auction"