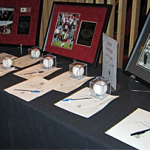 Have you ever asked yourself if your organization can fundraise too much? To answer that question, yes!
Many organizations may find that they are better known for their fundraising than for their mission. This can create challenges with both donors and volunteers. If potential volunteers perceive your organization as being all about fundraising and they are not comfortable with fundraising, they may feel that they don't have a place in your organization.
You may be cutting your bottom lin if you find yourself planning one fundraiser after another. If an organization focuses on one or two very well done fundraisers each year, they are more likely to raise the support they need for the year and get on with the work of their mission. Choose the fundraisers you focus on carefully and make a big impression! Promote the fundraiser well and have a great event team in place. Your efforts will pay off with increased giving and less focus on fundraising throughout the rest of the year.
The first step to success is to tell your story well. What does your organization do? Who do you serve? Share a success story, share a client testimony. By presenting your mission clearly you will be able to clearly present your need and connect with your community.
Once you've established and shared your mission supporters will be drawn to you. Some members may love what you do and choose to support you. Others who love what you do may not give until you ask, but will be more likely to support at least one of your well done fundraisers. It also may be that some donors aren't willing or able to give. Or, perhaps, the event just doesn't appeal to everyone. That does happen.  However, by limiting your fundraising to minimal events, you create goodwill with donors and potential supporters which all translates into support for your organization.
A fundraiser can also be kept going all year long online by creating a One Spare Week site. This custom branded fundraising site will allow your donors to go on vacation while you collect the donations. For more click here.
Keep in mind the phrase "we don't exist to fundraise, we fundraise to exist." when you plan your fundraising calendar for the year and remember to let the community know about your successful projects. If they only hear about you when you are planning yet another fundraiser, they will begin to wonder where the last donation they made was used.
To best sum all this up we encourage you to watch Tim Sullivan, founder of PTO Today as he talks about school fundraising best practices and about what is essential to having a strong PTO or PTA, solid parent community and a great school community.