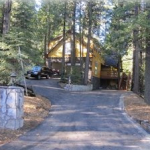 There's nothing like a vacation in Cali! Geronimo Vacation Rentals for Charity just added this amazing vacation lodge near Shaver Lake and China Peak in Shaver, California. The owners are donating a portion of the rent to Habitat For Humanity Fresno, Inc. and asking the renters to choose who should receive the remaining portion.
Located 1/2 mile from the friendly town of Shaver and pristine Shaver Lake, you're in for many treats at this 2-family vacation lodge. All the amenities – fully equipped and modern kitchen, stone fireplace with leather couches and large HD Satellite TV, to wrap around deck with gazebo covered Spa, and only 3 steps from the bathroom. Hand hewn cedar log cabin, nestled amongst stately cedar trees, provides a nice compliment to the large divided drive and garage entrance that provides easy access.
Shaver Lake is part of California's beautiful Sierra Nevada. It is name after C.B. Shaver, founder of the Fresno Flume and Irrigation Company that built the dam, creating the lake. The lake served as a mill pond for the Shaver Sawmill and the source for a flume that ran to 42 miles to Clovis, CA. The original town of Shaver was buried under the lake when the Thomas A. Edison Company purchased and enlarged the lake in 1919.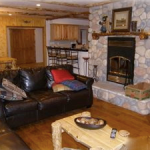 This rental is perfect for anyone who loves outdoor adventures! Skiing, snowboarding and more snow activities are available in November at near by China Peak. Fishing, hiking and site seeing abound.