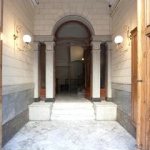 Beautiful Barcelona! Barcelona is one of the most iconic cities in the world. Within the city is Rambla Bulevard. This is the most famous street in Barcelona. The wide boulevard connects the Plaça de Catalunya, a busy square, with the Columbus Monument and the city's waterfront. Located very near is the BCN Rambla Bulevard Penthouse and Apartment Rentals. These rentals are the newest additions to the Geronimo Vacation Rentals for Charity inventory.
Rambla catalunya bulevard penthouse is a comfortable apartment located on the seventh floor of one of most emblematic buildings of the rambla catalunya. Beautiful, newly renovated penthouse on rambla catalunya with two bedrooms and a bathroom. The terrace with hammocks and chairs and facing south gives plenty of sunshine throughout the year and is ideal for resting or just relaxing with your family. In the same building we have more luxury apartments making it ideal for groups, companies or business people who have to spend a few days in the city , while having the best amenities such as in communication, as well as great shopping and restaurants.
Who knew a trip to Barcelona could help someone fill their bucket list while also helping a needy cause? We did! Go Geronimo!