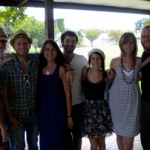 My family and I love to travel with our friends and extended family. There's no better way to do this than to all chip in on a fabulous vacation rental that comfortably accommodates all of us, and, often our dog.
I think everyone can agree that collecting everyone's fair share is not easy. In fact, it's sometimes painful.  If one person pays for the trip the others should pay at that time as well. But it doesn't always work out that way.  In my case, collecting everyone's share before we head out seems almost impossible. I have even tried to make it less stressful for others by collecting everything before the end of the vacation. However, by this point one family says they paid for dinner 3 nights in a row, so deduct that from their share. Another part of the group took a few of us out fishing so they want that deducted. And it just goes on from there.  Or, and here's the best part, the whole group agreed on the trip over drinks, you go ahead and purchase it and when you ask them for their share they say they weren't serious. They don't want to go. Aghh!
Wouldn't it be convenient if we could all pay our fair share in advance? Others have seen this as an opportunity and created platforms to support such a need. They allow the facilitator of the plans to create a "campaign" and invite all in the group to pay for their share. Once everyone has made their contributions the purchase is completed. Or the vacation rental may add a link to their site and allow the purchaser to select it during the purchasing process. Two companies that are doing this today are Human Gravity and PayByGroup.
Here at Geronimo Vacation Rentals for Charity we liked this solution so much we're in the process of integrating it into our silent auction checkout process (and likely onto the 628 private label websites we've already built for charities) using PayByGroup.
Check out Human Gravity and PayByGroup and let me know what you think. And if there are other companies out there doing something similar we'd love to hear about them.