In today's market there are many factors that set one vacation rental apart from another. It could be marketing, booking engines, management company performance, pure market demand and so much more. What many owners and operators unfortunately overlook is the aesthetics of the rental.
Take a look at the two options below and tell us, which you would prefer.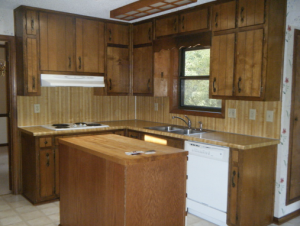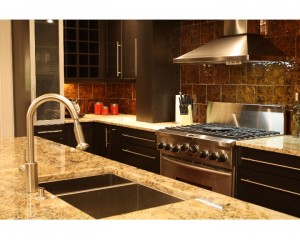 Now think about the renter. If they have overlooked the pictures on the booking site and arrive to see the first kitchen, what do you think their return rate will be? And do you think they will recommend this rental to their friends?  Now ask yourself the same questions with regards to the second picture.
Truly, the design and functionality of a vacation rental can be the make or break of its success. People in general are easily swayed one way or another by visuals. If something looks worn, one instantly assumes the house is filthy and this doesn't make for a great start to a vacation. However, on the other hand, if the house is well put together and clean the client is instantly put at ease and feels at home.
I recently read FF&E, Furnish and Equip Your 
Vacation or Executive Property in Five Days by Anita Ericksen. Not only does Anita help inspire ideas to set your vacation rental apart from the competition, she also outlines an approach to help owners and operators make it happen. If you've tried to decorate an entire home based on what you think the renters will want it can be very overwhelming and costly. FF&E, Furnish and Equip Your 
Vacation or Executive Property in Five Days is truly a "how to guide" for anyone wanting to improve their competitive edge.
To quote Anita "This books aims to take the guesswork out of refurbishing, furnishing, equipping and decorating.  It aims to take what would be weeks of hard work and second guessing and shorten it to five days of confident purchasing and seamless organization.  This book is an easy to follow guide, packed with information, designed specifically for the target market of individuals with average to above average income including vacationers; families; couples; singles; retirees and executives."
If you want more reason to read this book listen to what others are saying:
5.0 out of 5 stars A must read!, January 8, 2013
By gbrouilette: I was fortunate to find this wonderful resource upon purchasing my Scottsdale property. It is generously packed with worthwhile tips, tricks, checklists, photos and must have inventory lists that I am thankful to disclose saved me a considerable amount of valuable time. There is no guess work involved here, because the author thought of everything!
I found the information provided to be well thought out and organized. I credit this book for assisting me in furnishing and setting up my property in record time. I have an extremely desirable property that is not only highly praised but also well sought out by renters.
I am very pleased and recommend this book; follow this author's savvy advice and you will be too!
We should also say, the second picture above is an example of Anita's work. Anita also shares her expertise on twitter and her blog. We highly recommend her book and following her to stay in the know. And if you've read her book we'd love to hear from you. Please share your experience with us on Facbeook.
http://www.anitaericksen.com/blog.php