The weekend is almost here and you are craving to get out of town. Maybe it is relaxing in the mountains of Colorado, sunbathing in Florida, living it up California style, or perhaps shopping and dining in New York City. Be sure to check out our 'Upcoming Weekend Getaways' to find the perfect vacation rental for your escape from home.

As always, a portion of the rent will benefit a non-profit organization of your choice when booking a vacation rental with Geronimo!
Featured Properties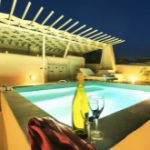 Relax in this elegant four bedroom home on one of the most vibrant Greek islands, Santorini. Only a 15 minute walk from the town of Fira, this home was originally a wine distillery in the 1800s and later turned into a villa. Make this home your next getaway with all of the intimacies of home and amenities of a first-class hotel. Be sure to enjoy its private terraces, outdoor jacuzzi and kicking back to lounge in the sun with panoramic views.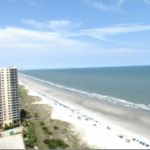 Whether you are looking for a family vacation on the beach or planning a golf trip with your buddies, don't bypass one of the most popular golf destinations, Myrtle Beach, South Carolina. Enjoy your stay in this three bedroom deluxe oceanfront condo in a fabulous gated community. With resort amenities, miles of beaches and great golf courses, there is always something to do in Myrtle Beach.