We know how important it is for you to find new ways of marketing your vacation rentals and brand without spending more money. Guess what? We have been listening! Your free listings and bookings just got better.
As Geronimo continues to grow, we are making enhancements benefiting a renter's experience when searching for vacation rentals, as well as your exposure as a property manager or home owner. Two new features have been released providing the benefit of enhanced SEO for both the destination and property management company, encouraging renters to book one of your homes on Geronimo.
Destination Pages
We are excited to share new Destination Pages on Geronimo's Home Page. The scrolling images represent some of the fantastic locations around the world Geronimo has to offer.

When selecting a destination from the scrolling images, renters can learn more about the location's surrounding activities and attractions. Best of all, Destination Pages increase the SEO for vacation rentals in the market.

Featured Property Managers
To enhance the renter's exposure to some of our great property management companies, we have also added Featured Property Managers to the Destination Pages. Featured property managers are listed on a Destination Page, along with their logo, information about the company, and a link to their website. Just another benefit of free listings and bookings with Geronimo to improve your marketing exposure!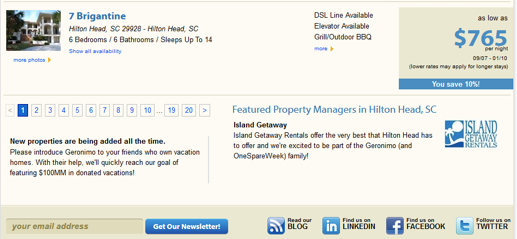 Contact us to learn more about how your destination and property management company may be featured.