WHAT'S THE BUZZ ON GERONIMO?
Geronimo is having great success working with non-profit organizations to promote vacation rentals all around the world at their fundraising events. We have recently sold vacations in Panama City Beach, Breckenridge, Hilton Head Island, the Bahamas and South Africa, just to name a few…and we are just getting started!
Property managers also find that listing with Geronimo provides enhanced SEO benefits. Check out our new scrolling Destination Pages from our home page and Featured Property Managers for each destination.
Your property management company can also benefit from Destination Pages and become a Featured Property Manager. Contact us to learn more about this great opportunity at amy@geronimo.com or 877.265.4273 x700.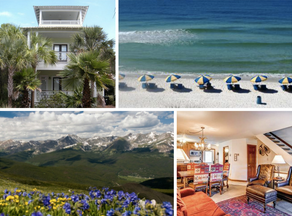 ---
NOW PROMOTING YOUR LISTINGS: TRIPPING.COM
Please join us in welcoming Geronimo's newest promotion and distribution partner,
Tripping.com
, a travel site that makes it easy for vacationers to compare and book vacation rentals. Our technology teams are working closely together so your listings on Geronimo will automatically appear on their distribution site, providing even more exposure for your properties and focusing entirely on your off-season and last minute availability.As a reminder, your off-season and last minute availability on Geronimo.com are always real-time when you are using automated calendar links with one of our property management software partners, 
HomeAway Software for Professionals
 (Instant Software), 
Barefoot 
or 
Razor
.

---
NON-PROFITS GIVE BACK, TOO!
Where and how vacation rentals are promoted is important for your free listings and bookings with Geronimo and our goal is to have the best relationships to maximize that exposure. So, just 
who 
are we working with, you ask?Our favorite non-profit organizations promoting your properties vary in size from grassroots and community organizations, to large, household names of organizations. Their donors typically take a few trips per year and often times, they are looking for a great home or condo to share with family and friends. Geronimo is the perfect way for them to combine their generous giving efforts with vacations.An exciting partnership that we are building one chapter at a time is Habitat for Humanity. We can't think of a relationship that more aptly defines the essence of what listing with Geronimo is about…rent a vacation home and help build a home.
Listing with Geronimo provides exposure for your properties, enhances SEO, increases you and your owners' off-season revenue…and helps our communities.  Helping people is why we created Geronimo and we can't do it without your generosity.  So, thank you!

Like us of Follow us today!