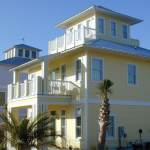 Everyone needs a little inspiration every now and then. Today we read a post from Simply Holiday Homes and thought everyone following our blog would find some inspiration for renting their vacation home.
Simply Holiday Homes provides some really interesting tips and insight. They discuss everything from incoming inquires to handing over the keys and handling payment. As well, there are on cleaning, security and how to handle complaints. We would also like to add one more:
List your Vacation Home with Geronimo: Reach a new audience and supercharge your SEO. Your Geronimo listings are featured on 1,200+ charity websites. All listings show your logo and include a direct link to your website! You'll be helping a charitable cause and you'll be maintaining control at the same time. You decide which dates to make available and what rates to charge. Select a specific charity or let the renter choose! Post a spare week any time you like. You keep half the rent and the other half goes to charity. Post last-minute cancellations and shoulder season periods.
To read Simply Holiday Homes post Tops Tips For Successfully Letting Your Holiday Home please follow this link. Let us know if you're already practicing any of these recommendations or have some of your own to add. We would love to hear from you.