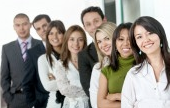 Nonprofit organizations are seeing, and feeling, the shift from one generation of donors to the next. While Baby Boomers and the Greatest Generation largely focused their charitable giving on healthcare, religious organizations and the arts, young donors seem to be driven by values, as well as results.
The Frey Chair for Family Philanthropy program at the Johnson Center for Philanthropy partnered with 21/64 to find out what drives young donors. The result is the key report, all about up and coming donors age 21 – 40, called #NextGenDonors.
The report determined that while young donors may carry on the values and legacy giving of their families, they will also be focused on how that giving fits into today's society. Is this organization getting results and making an impact in their community? Young donors want to see an organization that is active and lively, reaching out with compassion.
The report also reveals that young donors perceive their older counterparts' giving to have been a result of social pressures or recognition, while viewing themselves as wanting to give to make a change in the world. Does this mean the end of naming buildings and hospital wings after a family? Probably not, but next generation donors want to see that their donation is far reaching before putting their name behind the organization.
Young givers are also more likely to volunteer in their chosen charity. Social networking may play a part in this trend, as the next generation of givers are closely tied to their peers through these networks, sharing their interests and experiences. Active involvement as a volunteer with the organization also allows young donors, who are also likely young professionals, the opportunity network professionally. Having this first-hand experience with the organization helps young donors see where their donation is being used and how it is impacting those the organization serves.
Overall, next generation donors are working to build their own identity and giving style. Nonprofit organizations targeting these donors need to keep themselves well positioned to communicate positive impacts and make room for these young donors to actively participate in the organization, seeing those impacts first hand. This strategic move might just lead to increased giving from these up and coming donors.