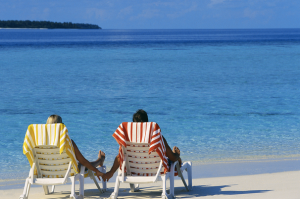 Do you remember your first vacation? You, know, the one with beautiful sunsets, sand between your toes, a morning cup of coffee from a mountain cabin view or laughter-filled afternoons making snow angles. Even the ones that might have involved way too much sunscreen lathered on or not enough, mosquito attacks, creepy-crawlers in your tent, trying a new local food trend that did not agree with you, a too-tight snow suite or better yet… the one you were more tired once you got home and needed another vacation to recover. When you include all of the joys and hiccups of spending time with loved ones, your mind transcends back to coconut suntan oil, fresh spring flowers, or the scent of key lime pie. Yes, THAT vacation, that you would click your heels three-times right now to go back to every minute and memory.  The problem with these great vacations is that they are few and far between.
An even greater problem is burnout. Not sunburn out but human capital burn out. While many nonprofits focus on donor burn out, who is focusing on the staff burn out? According to the Chronicle of Philanthropy's research, the average turnover for fund raisers is 16 months. Yes, only 16 months! However, on average it can take 18 months to cultivate a major donor and secure a gift. Do you see a problem here? If fundraising staff are getting burnt out faster than a major gift can be secured, nonprofits are losing donations and donors faster than they can secure a new one. Agencies are also losing valuable operational costs which can affect the organizations P&L and services provided. The direct and indirect costs of finding a fundraising replacement: $127,650. Ouch! Our Missions cannot afford this viscous cycle.
Could there be a correlation? Yes! Fundraisers may leave an organization for numerous reasons however, according Penelope Burk's research, president of Cygnus Applied Research, about 52 percent of fundraisers said they want the option to work from home, 51 percent want flexible hours, and 42 percent want additional vacation time. Do you see the connection?  As fundraisers learn their new positions and transition a donor's relationship, the demand can become overwhelming – mentally and physically – hence turnover at rapid rates. Fundraising staff need that decompression time, whether it be working from home, flex hours or better yet – quietly on a beach!  If you want to retain your donors, maybe a solution is retaining your fundraising staff longer. A CCH Human Resources Management study demonstrated that nearly 40% of workers "feel more productive and better about their job" when returning from vacation. Yeah! So let us help you keep your fundraising staff AND help you reach your fundraising goals. How you may ask? Geronimo is the answer!
Don't let the summer slip by without booking that much needed vacation to relax, reenergize your creativity, or even sleep past noon! Fundraising staff (volunteers and donors too) can now vacation with a purpose! Again – just think of the donations you will be saving!  It's easy… you enjoy a great home on the beach (or on the ski slopes), and you help your own charity at the same time since the property owner donates all or half of the rent.  Geronimo, is changing the way that people think about vacation homes for charity and we can help you get that R&R so that your own personal fund raising goals may benefit too. All thanks to great technology, generous property owners, property managers and promotional partners. It's a win-win!
So to help you stay at your nonprofit longer, raise even more money AND to make lasting memories think of Geronimo Vacation Rentals for Charity. Take a vacation – do it for the donors!