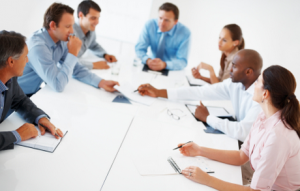 The number 1 job function of most Nonprofit Board of Directors is fundraising. However, one of the main fears of volunteer Board Members is to ask for money. What is a nonprofit to do? Let us help you with a few ideas to get your Board Members moving along. Here are few ways to get your volunteers fundraising through appreciation and awareness without even asking for one dollar.
Have Board Members send hand written thank you notes to recent donors thanking them for their gift.
Do you have Board Members who like to talk on the phone? Have them call donors on their giving anniversary to say thank you for supporting your organization.
Do you have any Board Members who are tech savvy? If so have them share why they support your organization on their personal social media outlets; make sure they tag your agency.
Ask Board Members to share a quote or a short story of why they personally are affiliated with your nonprofit for your printed newsletter. Their network may see how they support you and may follow suite.
Do you have a Board Member who is crafty? Ask them to help deliver goodie bags (homemade baked goods, candy, flowers, thank you cards from clients, etc.) to major donor's office or home. Make sure they say thank you to each donor for their support when they drop off the thoughtful (and low cost) goodie.
Do you have any Board Members active in other service organizations? Request their help with securing a speaking opportunity at their local membership clubs (Rotary, Chamber of Commerce, Lions Club, etc.) so that fundraising staff can share their nonprofit's programs and services opportunities to guests.
Do you have a Board Member who sends a lot of emails? Ask them to send a personal email to monthly online donors to say thank you for their continued support.
Do you have any Board Members who like to review and edit? If so, ask them to help review a grant request. Sometimes it's helpful to have an outsider look over your grant application for objective feedback.
Do you have any Board Members who are employed by corporations? Many large companies have payroll deduction campaigns and this is a perfect time for your Board Member to distribute printed materials about your wonderful programs and services. They can be your ambassador without formally asking for money.
If you have any Board Members who like to play golf or go on vacation, or have friends who like to do the same, encourage them to hit the greens, the beach or the mountains and list your nonprofit to receive a portion of the stay right back to you! Just think – they go on vacation, designate your agency, they never even asked for a dollar and you raise much needed funds for your Mission. How, you may ask? Follow this link to TravelPledge to get started
All of these ideas are just quick and easy ways to steward your donors to encourage and empower them to continue supporting your Mission. Just the smallest gesture of appreciation – again without even asking for money – can have the greatest rewards! Plus, if you eliminate the fear of asking for money by doing a few of these ideas, over time your Board Members just might reconsider the task of soliciting; they truly will become your biggest ambassadors.