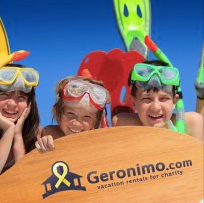 Does the prospect of making a generous charitable donation in addition to the cost of a relaxing getaway this year sound like a stress to your budget? What if there was a way to do both at the same time?
It's true, you can use your vacation budget to support your favorite charity and still reserve that getaway! This might sound too good to be true, but Geronimo Vacation Rentals boasts hundreds of premier vacation rentals in the United States and around the world.
Vacation property owners and managers all want to fill their space, but the fact remains that many of these properties are vacant for as much as 85% of any given year. Geronimo has found a way to meet the needs of property owners, managers, travelers and charities all in one. By searching Geronimo's Vacation Homes for Charity listings and choosing your vacation, a portion of your rental investment will be donated to the charity of your choice. Property owners and managers choose to generously donate half, or even all, of your vacation rental cost to your charity.
Geronimo's free mobile app makes it even easier. You plug in your favorite charity and your desired location and the app will do the rest.
Nearly eleven million dollars is waiting to be donated. Just follow this link  to give while you go.
If you are planning to travel, don't miss out on this opportunity to make your travel dollars count for your cause!