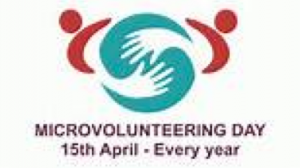 April 15th, 2016 is more than just the deadline to file your taxes. This year, April 15th is also the official Microvolunteering Day around the world.
What exactly is microvolunteering? The Microvolunteeringday.com website describes it broadly as "bite-sized, on-demand, no commitment actions that benefit a worthy cause." In other words, microvolunteering opens the door of volunteering to those connected to their screens and with little time to give at a physical location.
The Microvolunteering Day website funnels potential volunteers to multiple opportunities, most of which promise to take less than 30 minutes to complete. Tasks range from "Smartphone volunteering" which allows the volunteer to complete tasks through apps to signing and promoting petitions and completing surveys, as well as offline opportunities which include participating in fundraisers or something as simple as writing letters to the elderly or sending cards to hospitalized children. Microvolunteering opportunities could also include internet searches or scanning online videos.
2016 marks the 3rd year for a specific Microvolunteering Day. The designation of the day provides a great opportunity to tie in the needs of your organization for those who want to help, but may think that they do not have enough time. Why not incorporate your annual fundraising auction into microvolunteering and assign a few online volunteers to share your auction items with TravelPledge's new share buttons. You could even have an off-site volunteer search for auction items for your organization. Through TravelPledge they will be able to find golf packages, vacations, lessons, cruises, tours and more to offer your donors.
By promoting Microvolunteering Day through your social media channels, you'll be able to recruit those already connected to your organizations online efforts and familiar with online activities. Why not take a chance on a new angle in volunteering and fundraising. After all, volunteers are known to give twice as often as those not connected to volunteering. In this age of electronics, microvolunteering might just be the way to connect the next generation and engage them further with your organization. It's certainly worth a try.