Printin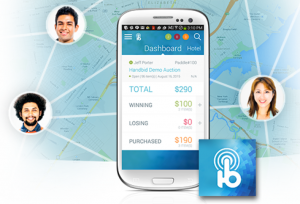 g bid paddles, matching bid number lists, assigning numbers to each bidder… now you can check them all off your list with one click, or app download in this case. Handbid is the latest and greatest in auction technology and will open your auction up to bidders across the room or across the country.
By allowing you to simplify your auction planning from beginning to end, Handbid will quickly become the auction planner's best friend.  You will find ways to manage your online auction and connect with donors directly. Once your donors have signed on, you can even text or email them about specific items and notify them when they've been outbid. This gives you, and your donors, the freedom to engage in the other important parts of your event such as networking and hearing more about your nonprofit.
Is your organization located in a snow bird populated area? Your part-time neighbors can still participate in your fundraising auction through Handbid. Even those with other commitments can stay connected and bid on the items they want while they watch the game or stay home with family. Handbid makes it possible for everyone you invite to attend, whether in person or online.
Handbid will take you and your donors all the way through the check out process, taking the stress out of the event for all. Winning bidders will receive an invoice directly to their device and have the option to pay online as well. No end of the night lines to manage and no frustrated bidders at the end of your event. This plan makes collecting funds easier on your team as well.
Handbid is available for Android and iOS. For those bidders who may not have a compatible device, a Handbid iPad kiosk can be made available for bidding.
Another way to add to the fun of the event is to keep all those in attendance informed about the most popular items. The Handbid app has the option to connect to a TV screen, showcasing the highest bids and generating more interest in items or "bidding wars". Ultimately amounting to more income generated for your organization.
Take the time to check out Handbid and you, and your donors, will be glad you did.