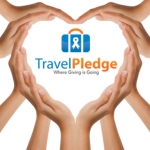 As a member of the nonprofit community, hearing 'grow your donor base without growing you staff' probably induced a sigh and the thought that this surely means my development team will be stretched even further than they already are. Sometimes that team is a team of one.
Put the worries away and try a new approach. Your organization has probably spent the bulk of its history reaching out to major donors one-by-one, seeking new donors through direct mail and fighting hard to keep your budget from sinking as donors come and go. It's time to take a look at Peer-to-Peer fundraising.
Peer-to-peer fundraising transforms your supporters into advocates for your organization. They may not know it, but they are already advocates every time they share their story. Have they shared their volunteer experience, event photos or even told someone that they donate to your organization? Then they may already have the hang of peer-to-peer fundraising. With a little focused direction from you, they could help grow your donor base without wearing out your development director.
Before sending your supporters on the peer-to-peer mission, be sure to equip them with the information they need to speak confidently about your organization. Limit your talking points to 3 or 4 engaging facts. Think elevator speech and offer your availability to answer any questions they or any of their contacts may have. Arming them with a client story will strengthen their testimony of your organization. If they have their own story as a result of their involvement, that's even better.
Imagine that someone has heard of your organization, but didn't know much about it, when one of your volunteers posts to social media about your organization. They have just created an instant connection with that potential donor. The potential donor knows your volunteer, they trust your volunteer's opinions and preferences and they now have a contact to request first hand information about your organization or even off them a tour or inside look. Since we already know that volunteers give two to one, your volunteer just opened the donor door.
TravelPledge is an ideal program to cultivate peer-to-peer fundraising. With the ability to offer online items for auction any time of the year, your organization's advocates can easily engage their friends and acquaintances with posts about available trips, lessons, golf outings and cruises. Better yet, if your supporters have taken advantage of TravelPledge packages to benefit your organization, they can easily speak to their circle about the program.
As your peer-to-peer fundraising grows, you can create a more structured training for your supporters based on the experiences of those who have already become advocates.