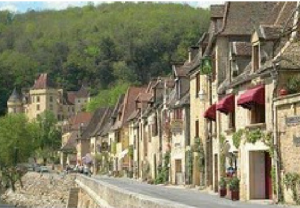 All of us at TravelPledge are excited to introduce our friends to this new featured vacation experience located in the village of La Roque Gageac in France.  This would be a great auction item for your upcoming fundraiser. Winning bidders love it. See for yourself as we take you on a journey.
Meet The Owners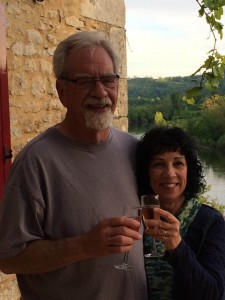 My husband and I are excited to make our property in France available to fabulous causes exclusively within the TravelPledge network. I can guarantee that we will go above and beyond to help your winning bidder get the most from their stay when visiting this amazing Village in France. In fact, all previous guests have reported that they had a great time and plan to come back in the future.
This convenient floorplan allows for families or friends traveling together to enjoy the large open main floor for meals, conversation and relaxing. Yet have complete privacy with the main floor separating their sleeping quarters. We look forward to helping your cause!
~Dave and Kitty Ziegler, your hosts
The Location

Tucked between the Dordogne River and steep, dramatic stone cliffs, the village of La Roque Gageac is the picturesque location for this completely renovated three thousand square foot stone house. Dating from the Middle Ages, the Dordogne Village-House is reportedly the oldest in the village. There are ancient stone steps gently ascending the hill, leading directly to the house. It offers an excellent opportunity to savor the natural beauty of this distinct area of France, as well as a truly authentic medieval village. This ideal setting is convenient with wonderful restaurants, casual dining and great pizza within steps from the house.
The House

On the mid-level of this three-story house, one enters through a rustic wooden door set into the thick, ochre-colored stonewalls onto a private courtyard. This leads to the entrance of the home through your completely remodeled kitchen with massive stone fireplace ("cantou") that now houses a wood stove, a long dining table, a new cooking range, and an American style refrigerator. The kitchen is completely equipped for convenient meal preparation. The attractive lounge has oak beams and the original large traditional fireplace (in addition there is electric heating for winter use). The lounge is spacious with comfortable seating for gathering and sharing the day's events. There are double French doors leading out to the ivy covered river view terrace. Also for your comfort: There is a convenient WIFI connection, a Bose iPod port, radio, television and free international calls to land lines. On the top floor there is a large master bedroom with a king sized bed. A second bedroom next-door has two twin beds, that can be made up as a king. Both bedrooms share a beautifully decorated bathroom with large walk-in shower, toilet and sink. A landing separates these two rooms. Below the main floor, on the lowest level, there is another double bedroom and spacious, remodeled bathroom with tub, shower, toilet and sink. The second bedroom on this floor has twin beds and a sitting area complete with desk/vanity. This convenient floor plan allows for families or friends traveling together to enjoy the large open main floor for meals, conversation and relaxing. Yet have complete privacy with the main floor separating their sleeping quarters.
 Previous Guest Comments

   "What a beautiful place to stay while exploring the southwest of France. The house was beautifully appointed with great amenities and plenty of space for our party of 7 people. The house is well equipped and beautifully appointed. It has all the charm of a bygone era with all the modern touches. La Roque is a picture perfect town and the shops and restaurants provided everything we needed. Helene, on the next level up from the house supplied us with wine and gourmet treats and Chef Dimitri came and prepared 2 exceptional meals for us. We had a wonderful time exploring castles, caves, spent a day in Bordeaux and drove through the gorgeous country visiting towns and villages. I can't wait for my next visit!"           [Linda - Seal Beach, CA - October 2015]
       "Le Bourg was the perfect base for our family get-together, with three generations travelling from Australia, UK, Canada and USA to be there. Everyone agreed that we had chosen a great location; the house exceeded our expectations and we could not have wanted more. It is a beautiful retreat, homely, comfortable and thoughtfully decorated, with plenty of space to relax and enjoy the surroundings, and a well equipped kitchen and modern bathrooms. Quality linen on the comfy beds. Reliable wi-fi. Chef Dimitri made us a superb meal, and Helene at Lou Castelou close by was very helpful recommending wines. The house is situated right in the village close to shops, restaurants, the river and canoes, and walking tracks. An enclosed entry courtyard and vine-covered terrace provide pleasant outdoor space. The house is on 3 levels with two flights of narrow winding stairs to the upstairs and downstairs bedrooms – no problem for our team (from 2 to 70 years!) but could be a challenge for less able individuals. There are lots of interesting historical sights and towns within easy driving distance, and activities for all ages. We spent a delightful and memorable 3 weeks and the owner was very helpful providing information and suggestions during our holiday planning and preparation.       [Ruth - Allistonville, Australia - August, 2015]
Add This Beautiful French Experience To Your Event
Please contact us via email at support@travelpledge.com or call  (877) 265-4273 ext 700. If you already have a TravelPledge account, log in now to add this experience (or the many other new vacation, golf and cruise experiences available) for your silent auction, live auction or your raffle.