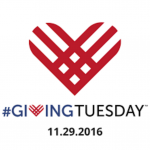 It's easy to get lost in the hustle and bustle of fundraising events and holidays as they quickly approach. Your donors, just like everyone else, are focused on family, shopping and the many activities they are expected to attend.
There's something coming to keep everyone focused on fundraising during this busy season, #GivingTuesday. For those who are not familiar with this annual event, it's like Black Friday mixed with Cyber Monday but all for non-profit. It's an online movement dedicated to giving back.  #GivingTuesday was launched in 2012 with the idea that during this busy time, nonprofits can turn the eyes of their community to giving back for just one day. #GivingTuesday will be here in just a few more weeks and gives your organization an opportunity to offer your donors a new perspective on the season.
This annual event provides a great opportunity to launch a social media blitz with the hashtag #GivingTuesday. Your organization will be part of a global movement focused on giving. The campaign will help to significantly contribute to your year-end giving and bring awareness to your organization.
One way that you can maximize your impact on this day of giving is to launch your campaign early. Let your online community know about #GivingTuesday and that you are part of it. Give families something to talk about around the Thanksgiving table. Many families begin to set their Christmas plans during Thanksgiving. Get them talking about #GivingTuesday and how they can start a new tradition. Create a hashtag unique to your organization that promotes you along with the day of giving.
Focus on sharing the savings left from Black Friday and Cyber Monday. Your donors will likely be taking advantage of the great deals offered on the two biggest shopping days of the year.  Get your community excited to share their savings with your organization.
Encourage your donors to take advantage of #GivingTuesday vacations or golf. Share your TravelPledge private label website with your message. When they book their vacations or golf foursomes on #GivingTuesday (and everyday) they'll make a significant donation to your organization (40% on vacations and 80% on golf). These purchases also double as great Holiday gifts for friends and loved ones! If you don't have one yet, create your free account here.
Do you have a donor who would be willing to match all #GivingTuesday donations? Identify and confirm them and promote this idea leading up to the day.
Be sure to promote #GivingTuesday throughout all of your social media, on your website and talk about it at speaking engagements and fundraising events leading up to the day.
If your organization has not participated in #GivingTuesday it's time to do it. As this event grows annually, the world will be focused on giving, don't let your nonprofit be left out.