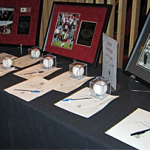 You've gotten on board with social media, switched your newsletter to an e-newsletter format and maybe even upgraded to a web-based donor database, so why are you still using paper bidding sheets for your silent auction?
With the greatest percentage of your donors and event attendees using a mobile device, using a mobile silent auction bidding platform makes sense. You are not only putting the "bidding sheets" in their hands, your reminders go straight to their device without having to rely on the emcee to remind guests to bid.
By combining text messages with online bidding, your donors stay engaged in the auction process, while also being able to give attention to the rest of the event. It's a win-win. When a donor knows they've been outbid, they automatically receive a notice and can immediately place their next bid online.
A great option when you go mobile is to start your auction before the actual event with online pre-bidding. You can choose to open the entire auction early or just a few items. Either way, it's a great idea to generate excitement for the items any way you can.
Need another reason to go mobile? When you send out your event invitations and receive the regrets, you'll be able to generate a notice to all of those who cannot attend the event, letting them know that they can still participate in the silent auction portion of the evening. Use this communication to highlight some of your top items to generate interest and encourage them to get registered online. Even if they are not at the event, they will also be able to receive texts and notices when they've been outbid. If they win the item, they can pay online wherever they are.
If you have members of your donor base who may not have joined the mobile generation, it's a good idea to have volunteers available who can not only help folks place bids, but also place them for them on a mobile device provided by your organization for the evening.
A mobile bidding platform can also improve, not only your checkout process, but your follow-up process as well. As each guest registers by entering their contact information, your team will not be burdened with hunting down address and phone numbers in the weeks following the event. During the evening of the event, guests will have the option of paying on their mobile device or at the "checkout". Both options use the mobile platform and make the checkout process much easier than the old paper process. During the follow-up phase, you'll be able to send receipts and thank you letters easily, knowing exactly what each donor purchased and the amount that was spent, with just a click, rather than searching through files.
The advances in mobile bidding technology can create a more exciting event and generate more money for your cause.  It is well worth making the switch from the paper dinosaur to mobile bidding.