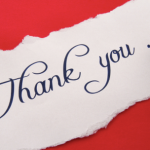 Many organizations revisit this topic year after year.  While some donors appreciate the acknowledgement, others may take offense to your organization spending the money they donated to help others on a gift for them.
What is a non-profit to do?
If your organization chooses to recognize donors, begin by setting boundaries. Every donor to your organization should not be on this list. Depending on the size of your organization, it might be donors of $500+ or $5,000+. Determine the boundaries and create your list. Whenever possible, gifts should be hand delivered, so as you set your list, keep in mind the staff time needed to complete this task and be sure it is feasible.
Gifts should be a small token. An ornament, a creatively packaged baked good, keep it simple, and if possible, keep it related to your mission. Does your organization serve children? Have them design a card or ornament. Do you serve individuals with the ability to write a brief thank you to add to the gift? Even better than a hand written note from the Executive Director or Development Director is a hand written note from someone who benefited directly from their donation.
If your organization chooses to not distribute donor gifts, you can't go wrong with a simple card with a handwritten thank you. Acknowledging the donor's involvement throughout the year and even noting how long they have been giving will be a nice touch.
Recognizing your donors as a group any time of the year is another option that could work, depending on the size of your organization. Host an open house or "Hot Chocolate Happy Hour" and invite donors and friends to see what their donation has done for your organization this year. This option would require plenty of staff and volunteers on hand for tours and to answer question. Inviting donors to  see first-hand how and who they are helping is a great way to say thank you. If it is organization-appropriate, clients or those served through your mission could serve cookies and cocoa to your guests.
If your guests attended your events throughout the year, an open house event is a great way to reconnect and follow up once more. Maybe the donor began volunteering on a regular basis after an event, be sure to ask how that is going. Did they purchase an item in your auction? Ask if they've had the chance to use the item or gift certificate and if they have thoughts on what you could add next year. See if they'd be interested in writing a testimonial around their experience. Providing them a link to TravelPledge so they can review items, purchase experiences and make more donations can help inspire their ideas and feel apart of your decision making team.
Whether your organization chooses to give gifts to donors or not, a thank you is always in order. There are so many creative ways to say thank you. Collaborate with similar organizations in your community or connect with non-profit leaders to inspire ideas. Saying thank you will pay dividends in the new year.