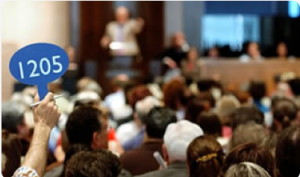 With the popularity of auctions consistently on the rise and fundraising taking on so many forms, largely thanks to social media, how can you make your fundraising event stand out? The odds of striking it lucky with an "ice bucket challenge"-type gimmick are small, but adding a theme to your event could pay off.
Building your fundraising event around a specific theme can give your event a boost in several ways. Your marketing alone could benefit by adding a theme. Be sure your event logo reflects the theme. It's okay to create a new event logo each year, based on the current theme of an annual event. Taking your theme to radio or TV can add a fun twist to an otherwise ordinary interview about your event.
Build your auction items around your theme. Is it a Spring theme? Choose auction items such as outdoor experiences, bicycles, lawn mowers or golf lessons, to get ready for the coming season. Is your event a travel theme? Fill your auction with exotic getaways. TravelPledge can help you choose the right items for your guests. From a summer cruise to a winter beach getaway, or a fall river cruise to a spring golf lesson, whatever the season or theme, you'll find it when you create an account with TravelPledge and explore the many items waiting for you to offer your donors.
Most important, have fun with your theme. When your guests are having a great time, they are more likely to spend money on the auction items you are offering. Think vacation. How many times have you made purchases on your trip that you may not have made at home? Create that same environment for your guests and watch your auction revenue enjoy a boost. Try offering a signature drink based on your theme to add to the fun, in addition to the décor. Include themed entertainment to get your guests in the spirit, and consider a grand reveal of your main room. This will also help keep guests perusing auction items until the doors open.
Event themes can be anything from a generic theme, such as the beach, Hollywood, Country and Cowboys or Masquerade to something a little more unique, like a board game theme, Mission Impossible or Indiana Jones, Mardi Gras, Bon Voyage or even a cruise theme. No matter which theme you choose, you'll be able to get creative and build your event around it. By generating excitement for your event by adding a theme, you will in turn generate excitement and interest in your organization. Be sure to sign up with TravelPledge and add some experiences that will compliment it.