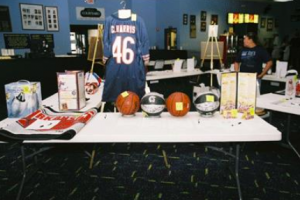 How can you get creative with Tricky Trays if you aren't sure what they are? Tricky Trays are a type of auction that allows the bidder to purchase chances to win and place them for a chance to win the item or items of their choice. Trick Trays usually involved gift baskets or packaged items.
So, what do you need to get your Tricky Tray event started? Add chance tickets to your list. You can use standard raffle tickets, or get creative with a themed ticket or entry slip, depending on your event. Your guests will want to write their identifying information and contact information on each individual slip. This will allow you to contact them if they are the winner of an item, as well as add them to your outreach lists.
You'll also need auction items. Just like in a standard auction, you'll want to choose auction items that are a good fit for your audience, theme and event. Choose items you can group together such as a getaway and luggage, or a golf lesson with a pro shop gift card, or an evening out to include a dinner gift card and jewelry.
Creating your TravelPledge account will get you started on choosing top notch items to attract donors to your Trick Trays. TravelPledge items will help you pull each Trick Tray item together with a wide selection of golf, getaways, river cruises, lessons and other adventures. And you can use their tools to promote your event!
Just like a standard auction, Tricky Trays have time limits. All chance tickets must be entered into the basket of the donor's choice by a certain time to be included in the drawing.
Depending on the event, you can boost interest in specific Tricky Tray items by having event volunteers visit each attendee table with the different types of baskets or packages up for auction. Remind your guests often that the drawing is coming soon and chance tickets should be purchased and submitted. Find balance between keeping the auction open long enough to maximize participation and for a short enough time to maintain your guests interest.
Tricky Trays can be a lot of fun, especially at lower dollar events where your guests may not have the budget to bid on larger auction items. Be sure to advertise a few of the key items on your social media ahead of the event. This style of auction can still allow you to bring in the funds needed for your event, but offering participating in the auction to a wider audience.