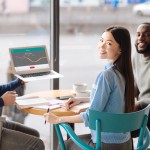 The Millennials that marketing firms have been preparing for have arrived. The Millennial generation are today's recent college graduates and rising corporate stars. They are also the prime audience for nonprofits as organizations seek to build revenue and replace volunteers and donors who have stepped off the proverbial Ferris wheel.
In order for nonprofits to successfully reach, and engage, this group of busy prospects, nonprofits must make sure they know how much their time, talent and treasure are worth to your organization. In today's technology-driven, fast-paced, over-stimulated environment, how can your organization bring this to fruition? It might be easier than you think.
Studies show that many Millennials want to be a part of the nonprofit world, whether as a donor, volunteer or advocate. The best way to engage them is to get to know them. Even at a young age, their life experience could lead to a match for your organization. This is the generation who has grown up with mandated volunteer hours for high school and college, social media exposure to campaigns such as disaster relief and the ALS Ice Bucket Challenge, and may even be connected to the nonprofit world through the activity of their parents or grandparents. Some of them may even be a product of a nonprofit through after-school programs, pregnancy centers, music programs and other social outreaches. They know there are needs. Engage them through your organization's social media. Invite them to get involved through Millennials who are already at your organization and get out in the community through college and community fairs and remind them who you are.
Events are a great way to engage Millennials. Does your organization host a wine tasting event or a business after hours type networking event? If not, this is the time to plan it and spread the word. Whether they attend the event or volunteer, you've taken a step towards engaging them in your organization and built a foundation for future involvement.
Follow up is key after your event. Get their feedback. Again, whether they attended the event or volunteered, hearing their feedback is important, not just to know their thoughts, but to let them know they matter. Their opinion matters, and the fact that they were part of the event matters. From here, you can invite them to participate further. Let them know of regular volunteer opportunities or invite them to be part of a young philanthropy board or group. If you don't have one, now is the time to start one. These young leaders could be your future board members. Remember that volunteers generally give 2 to 1 over those not actively involved in the organization. This makes volunteering a great place to start your relationship.
Keep the lines of communication open. Welcome ideas from your new Millennial friends and seek them out to serve on committees for events. Their fresh ideas can liven up stale events and their circle of influence can serve to freshen up your donor database.
As Millennials seek to find purpose in their young lives, your organization should be there ready and waiting to engage that desire for purpose in them. As a bonus, their social media habits will likely include a post or two about your organization. You can't beat free targeted marketing to a group of local Millennials.