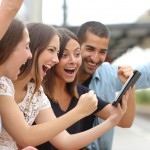 Gone are the days of paper bidding sheets and limited auctions. Welcome to the world of online auctions and increased event revenue.
Current technology can bring the bidder to you or you to the bidder, days, or even weeks, before your auction. Bidders can be in your home town or on the other side of the world and still bid in real time, or even ahead of time. Are your best donors out of town during an event? Don't let them miss out. Be sure they not only know that they can log on and bid, but show them how, and encourage them to bid early!
Key items can be advertised for pre-bidding. What is pre-bidding? This process allows guests, or those not able to attend, to preview, and bid on, key auction items. You choose the items you want to advertise for your auction and allow the bidding to begin.
Take advantage of social media and allow bidders to share what they are bidding on, increasing interest well beyond your organization's circle of friends. In order to make the most of today's amazing fundraising auction technology, you'll need to start with attractive auction items. Visit TravelPledge to choose the best of golf outings, ski getaways, cruises, lessons and more. You'll find unique experiences that will liven up your auction.
Once you have chosen your key items, the sky is the limit. You can open pre-bidding as early as you wish. You can even open a new item up for bid each day as you count down to your event. Be sure to post item end dates and times so that bidders can check back. Most auction software will notify your bidders when they've been outbid or when an item is winding down.
You'll still want to have some "wow" items available to unveil for bidding at your event. Consider showcasing an item in your advertising that won't be available for bidding until the day of the event. This will still generate interest in your pre-bids while cranking up excitement for the actual event.
Mix it up by having a few items that are only available online. This will also contribute to pre-event excitement and crank up the bids.
Pre-bidding is a great tool to use to help promote your event, as well as increase revenue. With the right items available in your auction, you'll create an event that the community will look forward to year after year.