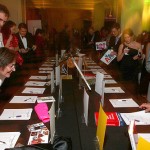 Does the thought of hosting a fundraising auction for your organization seem overwhelming? While the old adage "the more you put in, the more you get out" is certainly true, do not be afraid to step out and plan an auction event and put in that extra effort.
If you've never planned a fundraising auction before, you may not know where to start. A good place to begin is by planning your auction items. Many organizations use a shotgun approach and go and ask for donations and take whatever they can find from local donors. This can be helpful as fillers, but to really create a great and lasting event, you'll want to use the rifle approach and really target your donors with the type of auction items you secure and offer to them. In order to get the items that fit best for your donors, you will be relying on information already in your database. If your development team (or person) isn't making good notes about their meetings, be sure they start NOW! You'll be able to use info gathered along with their LAI (Linkage, Ability Interest) notes to make a great starting list for items. Perhaps you have a good number of donors with interest in the arts, visit a gallery to see how they can contribute. Knowing your donors already have that interest might be attractive to the gallery as well, making them more likely to come on board for your auction. The LAI information will also help you choose items that fall in a price category most attractive and feasible to your donors. If you have a large population of donors who enjoy golf, visit TravelPledge to find a golf package that fits in the price range you are looking for. TravelPledge can provide many great and unique items for your auction, including trips, lessons, golf vacations and more.
Once you've secured some amazing items, it's time to get the word out. With so many free advertising outlets through social media, be sure to take advantage of the amazing word-of-mouth opportunities that travel quickly through social media channels. Creating an event for the auction on your Facebook page will allow you to invite your friends and organization followers, as well as communicate to them quickly through a single post. You can even post links to auction items, allowing previews, this is another free feature TravelPledge provides. If your budget allows, you can even work with event planning software to further streamline your auction process.
In addition to social media advertising, send out press releases, see if you can get a short spot on local radio or tv prior to your event and include information for your fundraising auction in EVERY piece of mail you send out… electronic and regular mail. Sending out donation receipts? Include a flyer about an upcoming auction and where they can preview items. Include a link to the event page in all of your email blasts and even in your email signature. You never know what might catch someone's eye.
Now that you have your auction items in place and you're getting the word out, it's time to streamline the bidding process. Mobile bidding is the way to go. Regardless of which online bidding platform you choose, TravelPledge is compatible. Your event coordinator can upload your items to nearly all online bidding platforms by simply exporting them. TravelPledge also provides flyers for your chosen auction items and packages that you will be able to display with bidding sheets for traditional events.
As you think about rounding out your auction and providing opportunities for everyone to give, consider adding some extras. Does your organization serve children or families? Auction off a family sponsorship, or an item made by the kids. The item could be a painting, blanket or other type of keepsake that would simply represent the donor's contribution to your organization and remind them of your mission. You could also add a raffle, sell promo items or add an extra such as making a special donation in return for the band playing a specific song request. Some organizations will have a direct appeal, asking for donations during the event. Have fun with it and be sure the opportunities vary in price range, giving all in attendance the opportunity to contribute.
Bonus: Fundraising auctions are attractive to your community because they are fast-paced, upbeat events. Auction events provide for personal interaction with your guests, therefore strengthening donor relationships and meeting potential new donors.
It's never too early to start building your fundraising auction. Visit TravelPledge to see the wide range of packages available for your auction and get started!