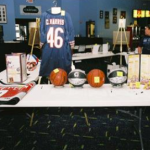 If you're new to the fundraising auction scene, looking to those who have experience in auction events is a good idea. There are some ideas that can only come from experience.
A well run fundraising auction can increase your bottom line and attract new supporters. While every event and every organization is different, there are some ideas and tips that can help.
1) Preparation. This one may seem like a no brainer, but it could mean the difference between auction sales and leftover items. If you are a smaller organization and choosing to do a traditional auction on paper, be sure all supplies are readily available… working pens, auction item descriptions, actual auction items organized and ready for pick-up, etc. However, if you want to make the most of your auction, you'll want to create the opportunity for your guests to participate in online bidding. Online bidding will allow you to organize your auction in ways that a traditional on-paper auction would not. Online bidding will allow you to collect bidder information up front before the bidding even begins. You will be able to pre-enter your bidders into your database to allow for quicker processing of receipts and thank you's. It will also allow those who could not attend to still  participate.
2) Auction Know-How. Those seasoned in fundraising auctions learn how to set bids for their auction items. Research auctions in your area and determine what has worked for them. One suggested formula is to set opening bids at 40% of the retail value of the item and bidding increments at 10% increases of the retail value. For featured items or live auction items, you may need to make adjustments. Of course, if you use any experiences from TravelPledge this all taken care of for you. Even the fliers are pre-designed and ready to print.
An often overlooked area of fundraising auctions is how you arrange your auction items. Organizing auction items into sections is beneficial for more reasons than one. Creating sections such as Travel & Adventure, Relaxation, Sports or Bon Appetit will allow you to have fun with your decorating. Each section can be recognized quickly by the way it is decorated. You could also choose to color code your sections for easy identification. In addition to being easily identifiable, organizing your auction by section will allow you to close various areas of the auction at different times. As areas of the auction close, your emcee will be able to easily direct bidders to the correct area by its décor or color code.
The flow of your event traffic should take all attendees directly past your auction items. If you have multiple rooms available, position tables so that they naturally flow into the next room (if they are attached rooms). Consider placing your tables in the flow of traffic between registration and the main event, being careful not to place them where it would cause a traffic jam.
3) Closing the auction. Your event attendees may peruse items upon their arrival and then go on to enjoy the main event. Schedule the close of the auction so that attendees have plenty of time to bid and then outbid others. Your emcee should announce auction reminders throughout the evening, and give notice 10 minutes before each section closes. Having volunteers on hand to help those who may be new to mobile bidding will help keep the bids moving upward.
Learn from the successes and mistakes of others who have journeyed the fundraising auction road before you. Take good notes throughout your event and implement any needed changes for your next event. Remember to get feedback from those in attendance, as well as your event volunteers, who likely had a great opportunity to observe some things you have missed!