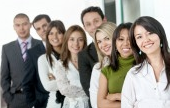 You work hard all year to secure new donors and keep current donors happy and engaged. When a reliable donor stops giving, it can be easy to take it personally. Identifying the reasons donors leave is the first step in retaining them.
Guidestar recently published an infographic on why donors leave (compared to why customers leave a business).
5%—Thought the charity didn't need them.
8%—No information on how monies were used.
9%—No memory of supporting.
13%—Never got thanked for donating.
16%—Death.
18%—Poor service or communication.
36%—Others more deserving.
54%—Could no longer afford.