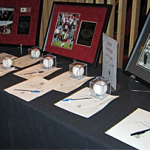 You've gotten on board with social media, switched your newsletter to an e-newsletter format and maybe even upgraded to a web-based donor database, so why are you still using paper bidding sheets for your silent auction?
With the greatest percentage of your donors and event attendees using a mobile device, using a mobile silent auction bidding platform makes sense. You are not only putting the "bidding sheets" in their hands, your reminders go straight to their device without having to rely on the emcee to remind guests to bid.
By combining text messages with online bidding, your donors stay engaged in the auction process, while also being able to give attention to the rest of the event. It's a win-win. When a donor knows they've been outbid, they automatically receive a notice and can immediately place their next bid online.