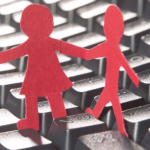 When we consider fundraising, we often look at the bottom line and the bottom line only: the gift. We often see the financial donation as the goal and miss the opportunity to see what that donor is really all about.
The real goal of fundraising is to build a relationship with the donor and grow their heart to your organization. The question is, how do we do that?
Keeping in mind the philosophy that people give to people, allow other donors and volunteers to draw in new donors and volunteers. With our lives wrapped around social media, encouraging donors and volunteers to share something about your organization on their personal page is a great start. When someone sees that their friend is involved with your organization, they will immediately view your organization as a reputable nonprofit.